$45
$99
Denver
Take a culinary tour of Denver
Enjoy 2-for-1
entrée & drink deals all over town.
Available on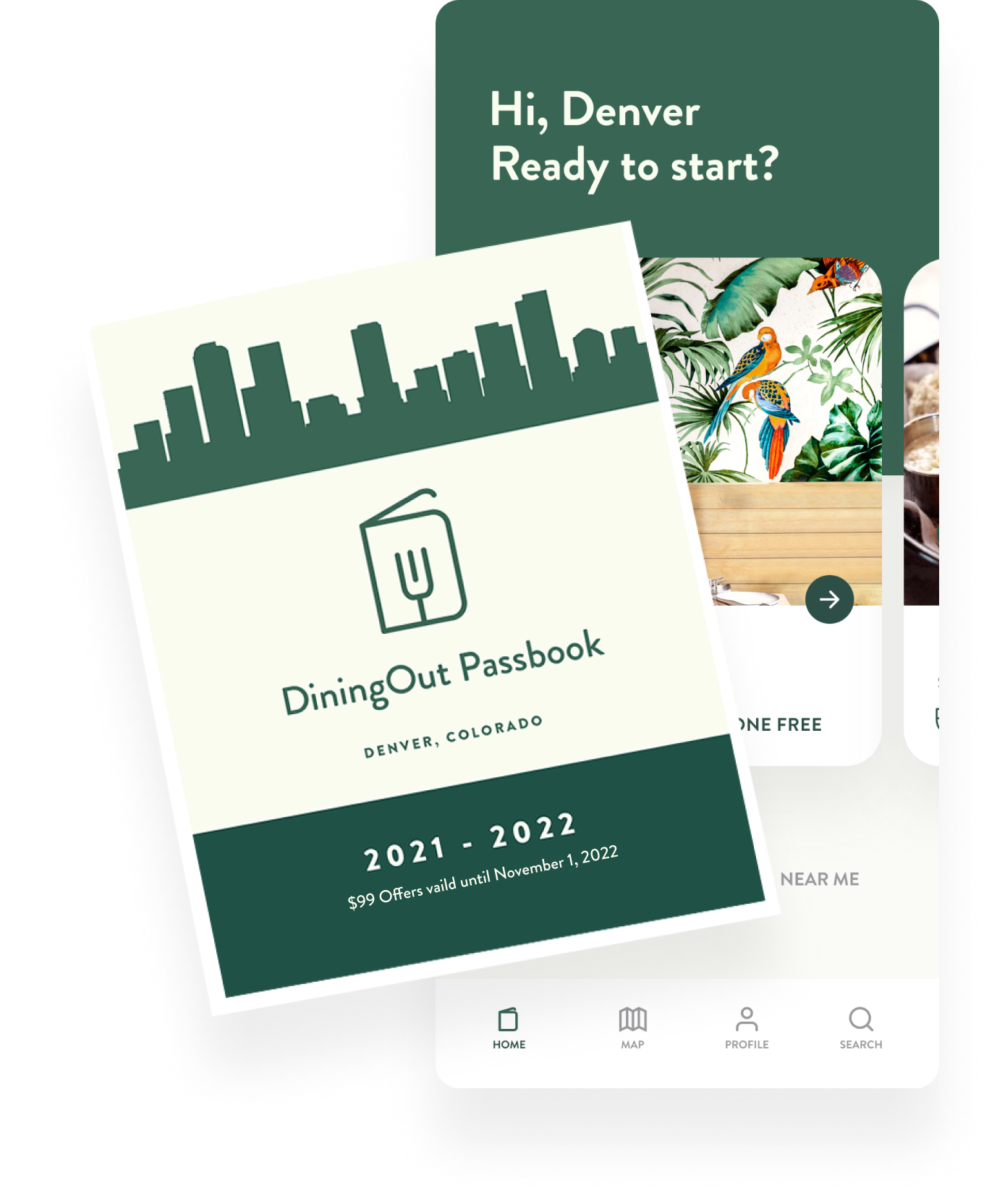 Not ready to buy?
Drop your email below and we'll notify you before the next price increase and other exclusive offers.
How the Program Works
Price is $99 for the Denver Passbook (includes shipping/handling).
Once ordered, passbook will be mailed within one week.
(PLEASE ALLOW UP TO 3 WEEKS FOR PRESALE DELIVERY)
You must present the DiningOut Passbook, in its entirety, at the time of purchase to receive the offer listed on the page. NO INDIVIDUAL PAGES, COPIES OF PAGES, OR RIPPED OUT PAGES WILL BE ACCEPTED AS VALID. Only one Denver Passbook will be accepted per table. If you have questions, please contact the restaurant prior to dining.
The offer will be signed or stamped in the PASSBOOK CONFIRMATION box at the time of your visit. Each of the Denver restaurant deals may only be used once, unless otherwise specified by the restaurant. Once the passbook confirmation box is marked, the offer page is considered redeemed and may not be used again.
The DiningOut Passbook is valid through November 1, 2022. The entire Denver Passbook expires after that date, and may not be honored by the listed restaurants. Many of the pages in the Passbook contain multiple offers.
All buy one, get one offers entitle the bearer to receive a specified item of equal or lesser value than the purchased item. The "buy one" portion is automatically applied to the more expensive item. This deal applies to any meal offered at participating restaurants, excepting those with specific exclusions printed on their deal pages.
The offers in the DiningOut Passbook may not be combined with other Denver dining coupons, offers or discounts, including happy hours. Passbook deals are also not valid during major holidays, including Denver Restaurant Week, without prior explicit approval of the restaurant. Please call restaurants in advance of dining if you have questions about limitations/exclusions.
Passbook offers are valid for dine-in only, takeout only, or both as specified by each individual offer page. Delivery orders are excluded, and offers cannot be applied to online ordering.
Some restaurants may list more than one address/location. In this case, the offer can be used at any of the listed locations, but can only be used ONCE. After the offer on that page is redeemed, the listing is no longer valid for further redemption. If a restaurant has an additional location that is NOT listed on the page, that restaurant is not formally participating and is not obligated to honor the promotion. Please call the restaurant ahead of dining if you have any questions.
Treat this book as cash. The DiningOut Passbook and Pearl Publishing Media Group are not responsible for any loss or theft of this book, nor are they responsible for any unsatisfactory experience, illness, or injury that occurs at or on the way to any of the businesses listed in the book. Use of this book constitutes your acceptance of a release of any and all liability from the publisher and its affiliates.
In the event of dine-in shut down, ALL offers will be available for takeout.
PLEASE BE SURE TO TIP ON THE FULL AMOUNT OF THE BILL BEFORE THE DISCOUNT. OUR SUPPORT IS NEEDED NOW MORE THAN EVER.
For all questions or concerns, please e-mail passbooks@diningout.com. Read more about our Denver Restaurant Deals.
Participating restaurants include ONLY the following:
Ace Eat Serve, Adrift Tiki Bar, Ale House, Ash'Kara, Bad Daddy's Burger Bar, Bang Up To The Elephant!, Bar Dough, Barbed Wire Reef, Blue Bonnet Restaurant, Berkeley Donuts, Billy's Inn, Bird, Birdcall, Blue Island Oyster Bar & Seafood, bubu, Cherry Cricket | Ballpark, Cherry Cricket | Cherry Creek, Cherry Tomato, Citizen Rail, Colorado Campfire, Coperta, Coriander, Crazy Love Pizza, Daughter Thai Kitchen & Bar, Deep Roots Winery & Bistro :: LoDo, Deep Roots Winery & Bistro :: RiNo, Di Francos, Dos Santos, Early Bird Restaurant, Esters, Etc. Eatery, F n G, The Fifth String, Fire On The Mountain, Fish N Beer, Foraged Restaurant, GQue BBQ, Grind Kitchen + Watering Hole, Hashtag , Highland Tap and Burger, Hopdoddy Burger Bar, Hops & Pie, Humboldt Farm, Kachina Cantina, Kaos Pizzeria, Kona Grill, Kuma's Corner Denver, La Sandia,Le Bilboquet Denver, Little Chingones, Little India, LOCAL JONES, LoHi Steakbar, Marco's Coal-Fired, Marg's Taco Bistro, Mister Oso, Modern Market, North County, Officers Club, The Original, Palenque Cocina Y Agaveria, Park Burger, The Park Tavern & Restaurant, Pizza Republica, Pizzeria Locale, Pizzeria Locale II, PokeCity, Que Bueno Suerte, Ronin Congress Park, Rosenberg's Bagels, Senor Bear, Slater's 50/50, Spanky's Roadhouse, STK, Stout Street Social, Sugarfire Smoke House, Sushi Ronin, taco bar, Tacos Tequila Whiskey, Tamayo, Tap & Burger Belleview Station, Tap & Burger Sloan's Lake, Teller's Taproom & Kitchen, Tiny Giant Sushi, Uno Mas Taqueria, White Pie, Whole Sol Blend Bar, Wynkoop Brewing Company+ 52 Big F'N Deals and more…
*** Not all restaurants in DiningOut magazine participate in the Passbook program ***
The 2021-2022 DiningOut Passbook expires November 1, 2022 (subject to change).
2021-2022 Participating Restaurants
Now featuring 150+ Restaurants & 52 BIG F'N deals and more
Ace Eat Serve
Adrift Tiki Bar
Ale House
Ash'Kara
Bad Daddy's Burger Bar
Bang Up To The Elephant!
Bar Dough
Barbed Wire Reef
Berkeley Donuts
Billy's Inn
Bird
Birdcall
Blue Bonnet Restaurant
Blue Island Oyster Bar & Seafood
bubu
Cherry Cricket | Ballpark
Cherry Cricket | Cherry Creek
Cherry Tomato
Citizen Rail
Colorado Campfire
Coperta
Coriander
Daughter Thai Kitchen & Bar
Deep Roots Winery & Bistro :: LoDo
Deep Roots Winery & Bistro :: RiNo
Di Francos
Dos Santos
Early Bird Restaurant
Esters
Etc. Eatery
FnG
The Fifth String
Fire On The Mountain
Fish N Beer
GQue BBQ
Grind Kitchen + Watering Hole
Hashtag
Highland Tap and Burger
Homegrown Tap & Dough – Wash Park
Hopdoddy Burger Bar
Hops & Pie
Humboldt Farm, Fish, Wine
Illegal Pete's
Kachina Cantina
Kaos Pizzaria
Kona Grill
Kuma's Corner Denver
La Sandia
Little Chingones
Little India 6th Avenue
Little India Belmar
Little India Downtown
The Lobby
LOCAL JONES
LoHi Steakbar
Los Chingones
Marco's Coal-Fired
Marg's Taco Bistro
Mister Oso
North County
Officers Club
The Original
Palenque Cocina Y Agaveria
Park & Co.
Park Burger
The Park Tavern & Restaurant
Pizzeria Republica
Pizzeria Locale
Pizzeria Locale II
PokeCity
Que Bueno Suerte
Ronin Congress Park
Señor Bear
Slater's 50/50
Sloan's Bar & Grill
Spanky's Roadhouse
STK
Stout Street Social
Sugarfire Smoke House
Sushi Ronin
taco bar
Tacos Tequila Whiskey
TAG Burger Bar
Tamayo | Larimer Square
Tap & Burger at Sloan's Lake
Tap & Burger Belleview Station
Uno Mas Taqueria
White Pie
Wynkoop Brewing Company